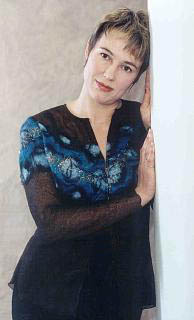 YAGA studio came into being in summer of 1999. The exact date is unknown.
From numerological point of view, the number of the year is a very good set of figures: "one" stands for beginning. But, as the reference scale shows, the distance from "0" to "1" stretched out for more than 10 years. Ten years of hard work over little-known technologies, mastering the complicated equipment, experiments, investigations. Ten years of trials and errors, lucks and failures.
At present, YAGA is a unique studio, where a few artists "conjure" with all love and passion. They are initiated in "Yaga's mysteries" (literally).
That is why each Yaga thing is filled with particular energy. It bewitches and makes you wonder. That's why we call people who buy from us, not as clients and customers, but we call them friends and like-minded. And that's why I want to finish this short survey of Yaga's history, since Yaga-fabrics are woven better than any fine words spoken.
Yours faithfully,
Director of YAGA studio,
a staff member of the department "Art textile" at the Stroganov Moscow State University of Arts and Industry,
Irina Yega